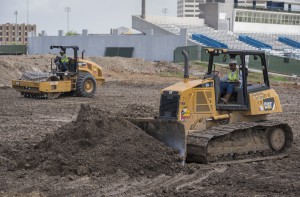 Construction crews at Delmar Fieldhouse, which will be part of the new Delmar-Tusa Athletic Complex, are prepping the site's foundation this week by working on adjusting the slope and elevation of soil on the site and installing a new building pad.
Delmar Fieldhouse was demolished in January as part of HISD's plans to modernize and replace the 55-year-old athletic facility under the district's 2012 bond program. The new three-story, 139,000-square-foot facility, designed by PBK Sports, will include a basketball and volleyball arena, locker rooms, training rooms, and athletic storage to accommodate the district's existing athletic stadium and ball fields. The facility is expected to be complete by mid-2015.
"I'm very thrilled to see progress being made on the construction of the new fieldhouse," said HISD Athletic Director Marmion Dambrino. "This fieldhouse is a much-needed athletic facility for our kids, and it's going to be great for us, especially the community, to watch them play in a new facility."
Once the design of the new facility was approved in May, the project moved into the construction phase, which is being led by DivisionOne Construction, the firm selected by HISD to construct the new athletic complex.
Underground plumbing, electrical, and site utilities work is scheduled to begin by August. The group has also met with the district's information technology department and AT&T to coordinate relocating the facility's technology conduit.
"The progress of the project is going well, and the team is excited about seeing more construction activity as we quickly move into the next phases of construction," said Travis Stanford, HISD senior manager of construction for the Delmar project. "This is an exciting project for HISD, HISD's Athletic Department and our schools, who will ultimately be utilizing this brand-new fieldhouse."