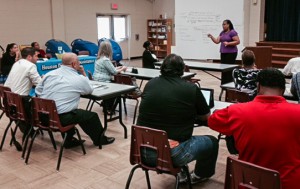 HISD's Business Assistance Supplier Diversity team hosted September's Workshop Wednesday, which featured Cynthia Nevels, Senior Partner of Integrality, a business management consulting firm.
Nevels presented information on the topic, How to Submit a Successful Business Plan.
"Most businesses have some type of a plan, whether it is bound in leather or all in your brain," Nevels said. "But an effective plan needs to answer the questions: 'What problem are you solving?' and 'How will your solutions solve the problem or meet the need?'"
About 15 companies registered for the event and attendees ranged from start-ups that have been in business less than a year to established companies approaching 20 years in business. All were given the opportunity to share their goals and to network with others hoping to do business with the district.
"Writing a business plan is a key component in order to win a contract or to obtain funding," said Edwin Lloyd, President of Lloyd, Smitha & Associates, a young engineering firm. "I'm here to get more input on how best to approach our plan, what to focus on, and what to avoid."
Ryan Thomas, sales associate for Eximus Coffee, represented his company at the workshop. "I'm excited about this opportunity," he said. "We'd love to grow our business and be more involved with HISD."
The Business Assistance office leads a small and minority- and women-owned business enterprises (M/WBE) program in which prime contractors are required to meet a specific M/WBE participation goal in the project scope of work. The department also sponsors an Interagency Mentor-Protégé Program with the city, Metro and the Port to help small businesses and M/WBEs improve business opportunities.
Workshop Wednesdays are held on the first Wednesday of each month.