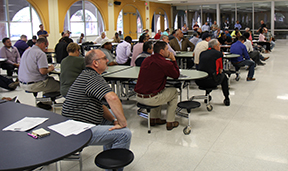 Cadence McShane Construction held a pre-bid meeting at Sterling High School on Friday for companies interested in working on the school's new building project. As part of HISD's 2012 bond, $72.3 million was allocated to construct a new 21st century campus for Sterling.
More than 80 potential subcontractors attended Friday's meeting, which was the company's second and final pre-bid meeting for the Sterling project prior to the October 22 bid deadline.
"Each general contractor will hold multiple pre-bid meetings throughout the construction phase to explain the bid process and selection criteria to potential subcontractors," said Alexis Licata, General Manager for Business Assistance. "These meetings are a great opportunity for any business, and certainly for M/WBEs, to hear a summary of the project and to understand what goes into a successful bid."
HISD's minimum Minority- or Women-owned Business Enterprise (M/WBE) participation goal levels are 20 percent for purchasing and construction and 25 percent for professional services. HISD's total combined commitment made by all design firms in the 2012 bond program is expected to top more than 53 percent participation by M/WBE firms.
Robert Bedrich, Vice President of Cadence McShane, gave an overview of the Sterling project and discussed the bid process, expectations, deadlines, and insurance and bonding requirements.
"We've put a lot of thought into these work packages," Bedrich said. "We want to make sure the bidders have a complete understanding of the project they're bidding on. We want them to be successful."
Bedrich also addressed the project's safety requirements including background checks and badging for all workers on the construction site.
Eddie Smith, Director of pre-construction services for Cadence McShane, discussed the importance of conveying expectations to bidding companies. He also offered some advice for subcontractors looking to get a foot in the door.
"Do your research. Understand the scope of the project and be flexible," Smith said. "Be willing to take a small chunk, do it well and grow from there."
Smith explained that his company would like to work with small businesses and M/WBEs that do quality work and are committed to the project but may not have all the resources or manpower to do a huge job.
"If someone really wants to grow their business, they're enthusiastic but maybe they're small, we don't want them to bite off more than they can chew," Smith said. "But we're willing to work with them to find a job they can handle. We can divide the job and write a contract for that smaller portion of the project."
Lisa Williams, president of Diverse Consulting Enterprises, attended the event with the goal of meeting subcontractors who need staffing services. Her company has benefitted from becoming M/WBE certified and she encourages qualified businesses to get this certification as well.
"Certification is a first step, and then you need to network – get out and meet people," Williams said. "The Supplier Diversity people at HISD are a great resource. They are very helpful. If you want to do business with HISD, you should definitely get to know them."
Cadence McShane has also been contracted to build the new HSPVA campus and they expect to hold pre-bid meetings for that school sometime in January.
Information on this and other upcoming bid opportunities can be found on the HISD website or by calling the Business Assistance Supplier Diversity Department at 713-556-7273.