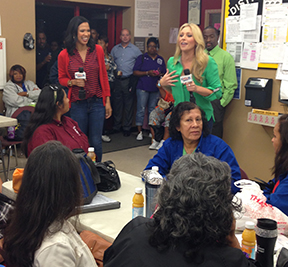 HISD bus drivers received a big surprise early Thursday morning on live television, thanks to the KHOU 11 Surprise Squad. Drivers, mechanics and staff members cheered as KHOU reporters Chita Johnson and Mia Gradney handed out more than 400 burritos, courtesy of Breakfast Burritos Anonymous.
"This morning's surprise event was for the entire Transportation team at the Central location," said Nathan Graf, General Manager of HISD Transportation. "The last event we had like this was for the Northwest location and it is so much fun to see the employees' reaction."
"It was really a good surprise, I appreciated it," said bus driver Kevin Johnson. "We work here amongst a lot of good people with good hearts."
HISD's Transportation department received the nomination as a way to say thank you and show appreciation for getting students to and from school safely. Each week, the KHOU Surprise Squad goes throughout the city providing random acts of kindness and surprise gestures to the community.
"All of our Transportation employees are committed to providing service excellence, and the Surprise Squad early morning breakfast today brought smiles to everyone's faces," Graf said.