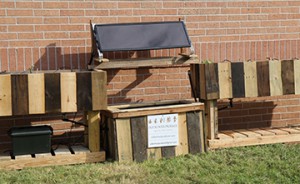 Briargrove Elementary School students are once again being considered for a national award for their efforts to build a greener campus and maintain a healthy environment.
As part of HISD's recent Green Apple Day of Service, the school has entered their solar-powered hydro-planter project into the 2014 National Reuse Contest, sponsored by The Reuse People of America.
Rebecca Luman, Briargrove's PTO Sustainable Resource Chair, says the school's Eco-Team learned about the hydro-planters from local business Old School Produce (OPS) after teachers requested a new teaching garden to complement the existing school gardens. Briargrove teamed up with the business, along with the City of Houston's Reuse Warehouse, to design and build the planter from reclaimed building materials
"OSP graciously donated their time to construct the hydro-planter and to educate our teachers and students on its use and maintenance," Luman said.
The hydro-planter was designed and built using 526 pounds of building construction materials using locally sourced organic compost and soil. It recirculates water using a pump system powered by the sun. With the project, Briargrove students now recognize the power of using renewable energy and understand the importance of conserving natural resources for years to come.
For this year's National Reuse Contest, first-, second- and third-place winners will be announced in January and will receive a gift certificate of $1,000, $500 and $250. Briargrove also participated in the contest last year by utilizing nearly 8,000 pounds of reclaimed bricks, stone, and other construction materials to line the school's butterfly gardens, orchard trees, and outdoor classrooms.
"While we did not win the contest, we were happy to use the opportunity to educate our community that reusing construction materials, rather than sending them to a landfill, is a wonderful way to save money and protect our earth," Luman said.