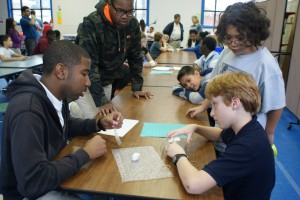 Booker T. Washington High School teacher Dr. Nghia Le and his students recently led hands-on science, technology, engineering and math (STEM) activities for students and parents at Garden Oaks Montessori.
Students collaborated in their efforts to design the perfect landing vehicle for their precious cargo – an egg. Students worked together in small groups and learned that sometimes failure is part of the process for scientists who learn from practice in order to perfect a design. 
Both schools offer magnet programs. The deadline to apply to a HISD magnet program in the first round is Dec. 19.