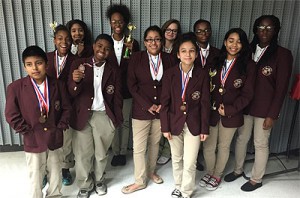 Members of Team HISD at HISD's Cullen Middle School are feeling better about themselves and their campus, thanks to an on-going partnership with a nearby faith-based organization.
First Presbyterian Church has been uplifting the spirits of the faculty, staff, and students at that school through a variety of projects since 2011, and it recently surprised campus leaders with an additional $20,000 donation.
"Pastor Birchfield was looking for a way to help a high-needs school," explained Cullen MS secretary Tara Melton. "And more than 90 percent of our students qualify for free or reduced price lunch. We also have a fairly large homeless population from the Star of Hope, and some foster children from Depelchin."
Over the past three years, the church has completed a number of campus beautification initiatives to increase school pride, such as a teachers' lounge makeover, and painting, landscaping, and carpentry projects, but one of the biggest morale-boosters for students was the jackets they received for University Interscholastic League (UIL) competitions.
"The jackets were made by the same company that does them for the Young Men's and Young Women's College Preparatory Academies, so they're really something," added Melton. "When the woman came in to fit the students, they were like, 'Wait. We're really getting these?' They looked amazing. And the sense of pride they felt when they went to the next UIL competition…they were just beaming. We are all so grateful."