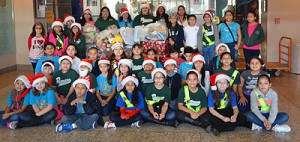 Almost 90 percent of the children attending HISD's Patterson Elementary School qualify for the federal Free and Reduced Price Lunch program, but they didn't let that stop them from giving back to others.
Students at the literature magnet campus collected more than 400 toys for the benefit of children who can't be home with their families this year because they are receiving on-going treatment for injuries or illnesses at local medical facilities.
The toy drive was coordinated by the school's safety patrol and second graders, and the toys were delivered to the Shriners Children's Hospital in Galveston on Dec. 13.
"This was such a wonderful experience for our school," said Patterson ES tutor Rosario Garcia, who spearheaded the project and co-chairs the safety patrol with bilingual teacher and second grade team lead Tommie Deschenes. "It can make a difference in a child's life."
"The students were really into it," added Deschenes. "Instead of exchanging gifts between themselves this year, they donated them. They were so excited. None of the kids brought anything expensive, but that wasn't the point. They were giving from the heart, and that's what Christmas is all about."