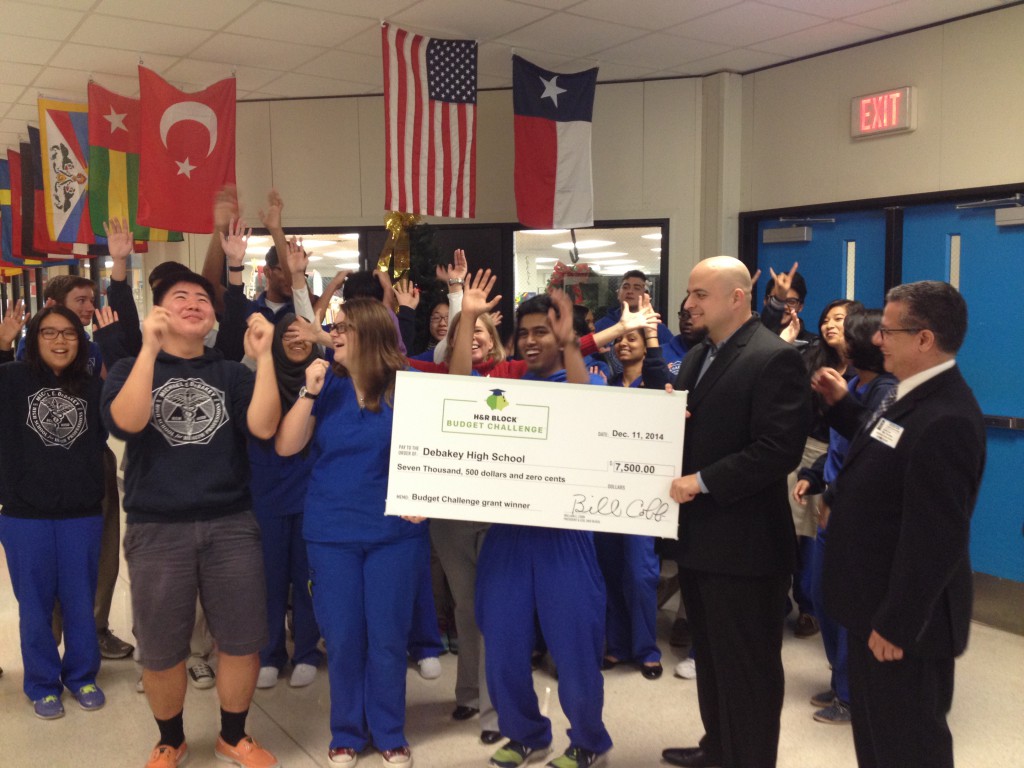 The DeBakey High School for Health Professions recently received a $7,500 grant from the H&R Block Budget Challenge, a teen financial literacy program that rewards high school classes for mastering real-world budgeting and personal finance decision-making. H&R Block representatives presented campus leaders with a check at a special gathering held in December.
High school students and educators nationwide are competing this year to win a portion of $3 million in classroom grants, college scholarships, and cash prizes through the Challenge, which was created to help students learn to manage their money and become financially responsible adults.
"One of the biggest mistakes I made during the H&R Budget Challenge was paying my bills late," said DeBakey student William Ferguson. "It was good that I made that mistake in the practice simulation and not in the real world."
"In the Budget Challenge, the larger the amount I contributed to my 401K, the more points I received," said student Mariam Siddiqui. "This reflects the extreme importance of saving early and saving often, which will pay off in the future."
Only five states require at least a one-semester course in financial education, which means teens across the country are graduating without basic financial skills—like how to pay bills and save money for retirement. And, 83 percent of students don't keep a budget—even though most of them are spending their own money, according to a H&R Block survey of teens.
It's not too late for other interested students and schools to participate in the Challenge. Three more simulation periods remain, the next one starting on Friday, Jan. 16, 2015. To sign up, please visit the H&R Block Budget Challenge website. Complete rules are here (.pdf).