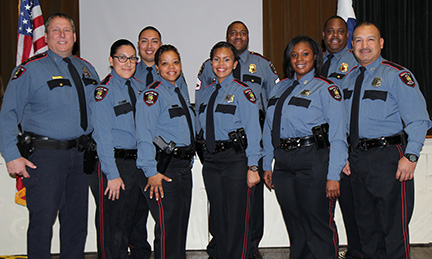 The Houston Independent School District Police Department kicked off 2015 by welcoming six new police officers and promoting one of its own to sergeant on Wednesday.
About 60 family members, friends and local law enforcement officers attended a ceremony at HISD Police headquarters.
During the ceremony's opening remarks, Chief of Police Robert Mock explained the importance of making a positive impact on students by creating a safe learning environment throughout the district.
"Today, you will get a badge and become a public servant," Chief of Police Robert Mock told the officers. "We're here to serve—particularly HISD, the students and staff—and try to make that experience something they will remember."
Newly sworn-in officer Hector Garcia, who previously served as a police officer for 20 years, wanted to leave a message with his classmates.
"In reality, enforcing the law is only a small part of what you will be doing," Garcia said. "You took the job to help give back to the community."
Garcia and five other class members joined the department as officers: Cristian Duron, Kelley Farris, Nina Munguia, Audra Vaughn and Antoinette Wyrick. Officer Antony Davis was promoted to the rank of sergeant and said although he still has a lot to learn, his experience with HISD PD over the years has been a rewarding experience.
"HISD is a great place to work, and they have given me the opportunity to learn a lot in my time being here," Davis said. "I continue to look forward helping the district as best as I can."
The HISD Police Department is the only accredited public school district police department in the nation and responds to more than 81,380 calls per year across 300 square miles in the Houston area.