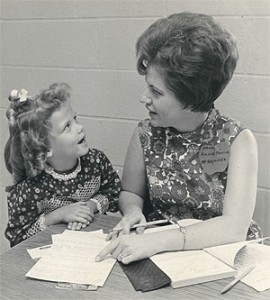 It's been more than 40 years since Annie McReynolds first taught kindergarten in HISD's Durham Elementary School, but the retired educator has been back in the classroom since 2014—and this time, it's as a volunteer.
McReynolds, who celebrated her 80th birthday on Jan. 22, now serves as a reading mentor at the school she helped launch. She was one of the original faculty members when the campus opened back in 1968, and a photo of her registering a student on the first day of class that year (pictured) still hangs in the front office.
"I was only there about four years, because I had two more babies," explained McReynolds, who later taught at private schools. "But my heart is in school teaching, and I'm still very healthy and active. If I don't go to the mirror, I don't know I'm 80."
McReynolds said she offered to help out at Durham because "I could see what individual attention did for children."
Volunteers are still needed, so if you'd like to be a mentor, please visit the Read Houston Read website.