HISD's Transportation department teamed up with the Houston Educational Support Personnel, Local 6315 Union all week long to celebrate National Love the Bus month with their "Lettuce Show You Some Love" event.
Created by the American School Bus Council. National Love the Bus month shows appreciation during the month of February for school bus drivers and personnel who go above and beyond to safely transport students to and from school.
This year, the Transportation department decided to go without the traditional sweet treats. Instead, management served employees with a healthier alternative—a fresh garden salad bar. All four bus terminals, including Barnett, Butler, Central and Northwest, held events at their motor pools.
"One way to show love is to i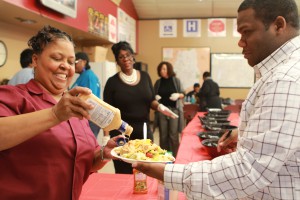 mprove the health of employees by encouraging them to eat more salad and drink water, [which] improves blood pressure, diabetes, and cholesterol," said Wretha Thomas, president of Houston Educational Support Personnel, Local 6315 Union. "The salad appreciation lunch in Transportation was a great program, and we encourage other departments within the district to do the same thing."
Each day, nearly 1,000 HISD school buses travel more than 15 million miles annually to transport over 30,000 students across the district.
"Anytime HISD comes in and wants to do something with each motor pool, it's very much appreciated," said Patricia Dennis, who has been an HISD bus driver for 10 years. "We are very thankful for HISD, the salad bar and the event because it helps us promote and get started with the [district's] weight challenge."