HISD's Drop Out Prevention Office has collaborated with the Transportation department to make sure every former HISD student throughout the Houston community earns their high school diploma.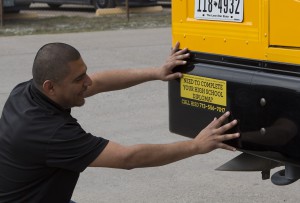 In an effort to help students who have dropped out of school return to school, every bus in HISD will now include a bumper sticker promoting the Drop Out Prevention Office phone number. The goal is to keep a constant visible message inside the community for former students who still need to complete their high school diploma.
"We're always looking for ways to help kids come back to school, so we have to be creative thinkers," said Beatrice Marquez, HISD Director of Drop Out Prevention. "It's a social responsibility that we have as a school district to keep the message and hope alive, and it also supports the daily work of the principals, teachers and counselors."
The district is prepared to direct any enrolled student to the right academic program, including those not formally enrolled in HISD. According to Marquez, the department has directed callers who have spotted the bumper sticker and Youth Watch banners on buses, clinics, community centers, and schools.
"I want every child to complete their high school diploma, and we have effective options at HISD to help them find the right program," Marquez said. "There's no 'magic' number—we just want all kids to complete their high school diploma for a better future."
If you are a high-school dropout between the ages of 13 and 21 (22 if you are eligible to receive Special Education services) and you wish to resume your studies, please call 713-556-7017, Monday through Friday, from 9 a.m. until 3 p.m., to speak with an HISD representative about how you can return to school. You can also email gwr@houstonisd.org.