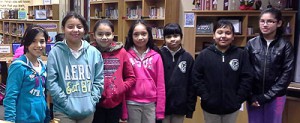 The "Early Bird Library Club" has been a popular destination for third- and fourth-graders who want to get in a little reading before class starts at Brookline Elementary School since January of 2014. But this year, a group of seven caring fifth-graders also decided to get in on the library love, when they began volunteering to replace books on the shelves after the club members had left.
"This was a purely spontaneous effort on their part," said Brookline ES teacher and library assistant Theodore Wills, "although, of course, it had my wholehearted encouragement. Initially, I gave them little prizes, but for the past several weeks, they have received no compensation."
Wills noted that he is most impressed by the quality of the students' work around the collection. "These 'little librarians' have a good deal of fun, a feeling of ownership, and a sense of accomplishment from working together so well," he said.
The girls themselves cited the reasons they volunteer as everything from a desire to help teachers and students to the satisfaction that comes from creating beauty and order in the world around them.
"I enjoy helping the librarian have a well-organized library," said Jennifer.