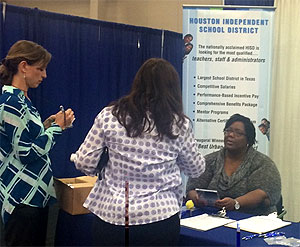 One of the best aspects of working for a school district is the opportunity to be part of a team—and that is particularly true for speech therapists.
"After salary considerations, the most critical thing speech therapists say they look for in a position is the chance to work in a supportive environment where they can collaborate with other professionals," said Cheval Bryant, manager of Speech and Language Services. "In clinical settings, it's often just one person in a room with a child. But in school settings, professionals aren't in silos. They work closely with school psychologists, diagnosticians, and teachers to best serve students."
And that's precisely the message that Bryant and several other members of the Office of Special Education were out in force to share at the Texas Speech-Language-Hearing Association's 59th annual convention in San Antonio earlier this month.
Approximately 37 percent—or 60—of the 160 speech therapist positions in HISD are currently held by contractors, but HISD is working hard to recruit highly qualified speech therapists to replace them with full-time district employees.
"Speech therapist positions are historically hard to fill," added Bryant. "There's a shortage all over the state. But our booth got a lot of traffic. We had hundreds of therapists come by, and many do find that piece very appealing."
As a result of their recruiting efforts, Team HISD has already obtained contact information and resumes from 73 speech-language pathologists at the convention. Four have completed job applications since the conference ended.
If you'd like to be considered for a speech therapist position, please click here or visit the HISD Jobs website.