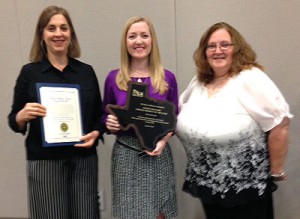 A group of educators from HISD, including three librarians—Jo Reed (Scroggins ES), Cheryl Hensley (MacGregor ES), and Sue Carnes (Bell ES; now retired)—was recognized recently with the Wayne Williams Library Project of the Year Award for 2015 by the Texas Library Association.
The librarians were selected for coordinating schoolwide reading campaigns at their respective campuses based on the Lunch Lady series of graphic novels by Jarrett J. Krosoczka. The project not only built on students' enthusiasm for graphic novels, but also increased their awareness of health and nutrition through a cleverly organized partnership with HISD Nutrition Services Dietician Jennifer Lengyel that connected daily meal offerings to literature.
The project was so successful that at Scroggins, interest in graphic novels spurred the principal to quadruple the school's collection of that type of book from 12 to 48. At MacGregor, circulation of the Lunch Lady books increased by 90 percent. And at Bell, the demand for graphic novels increased so much that emergency rations of books had to be secured.
The Wayne Williams award is designed to recognize a project that exemplifies the highest levels of achievement, professional standards, and inspiration to other libraries. Reed and her colleagues were formally honored during a special ceremony held on April 15 at the Texas Library Association's annual conference in Austin.