HISD's Bond Oversight Committee held its quarterly meeting on Tuesday, in which the panel received an update on bond projects from the first quarter.
Among the topics discussed were a review on how the district calculates capacity for schools, as well as information on M/WBE participation levels and financial reports. HISD staff said they were excited about the work that is underway, including foundation work and vertical construction, and said there is more to come.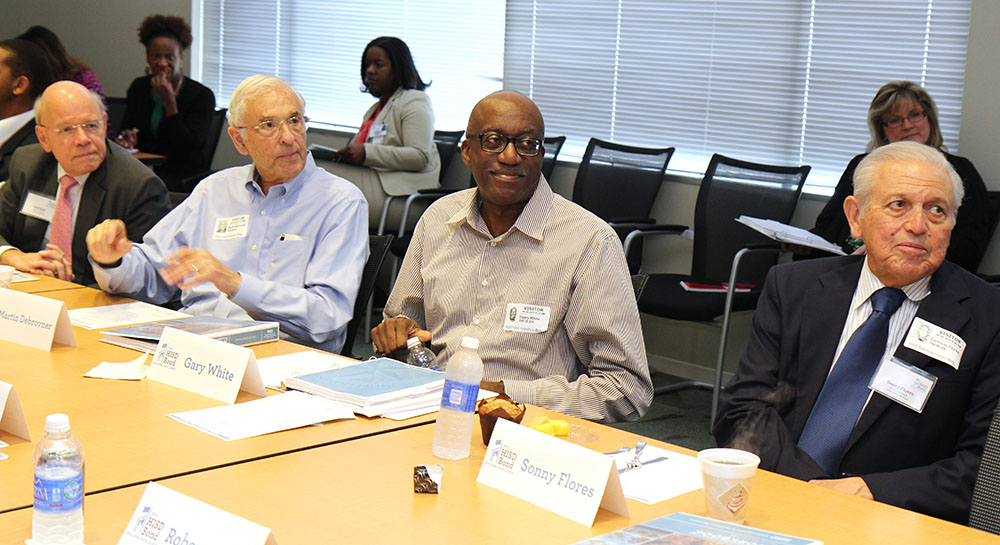 "We've made a lot of progress, there's a lot of good news," said HISD Chief Operating Officer Leo Bobadilla. "We're busy all over Houston right now."
Sue Robertson, general manager of Facilities Planning, presented information on how the district determines capacity ranges for each school. She explained that 21st century schools trend toward including teacher work centers, where teachers can plan and collaborate with each other. This college-style design ensures instructional spaces are optimally utilized throughout the day to maximize capacity, she said.
"A core paradigm of 21st century learning is group work centers, where teachers are not siloed in one classroom every day," Robertson said.  "This model also allows for classrooms to be used 100 percent of the school day, rather that sitting idle during a teacher's planning period."
The first quarter of 2015 saw construction getting underway at Group 1 schools and planning completed for schools in Groups 3 and 4. Group 2 schools made design progress, and some have scheduled their second round of community meetings.
Also in the first quarter, HISD administrators and project managers briefed each school's Project Advisory Team on budget issues that may have an impact on design and construction schedules, and the team continues to evaluate cost-saving measures.
"Our teams are working with contractors to bring the costs into line and in many cases have come up with very good solutions – things above the ceiling and behind the walls that folks will never see and that won't compromise the quality of the building," Bobadilla said.
Committee members were told that in the cases of Furr HS and HSPVA the contracts for CMAR (construction manager at risk) had been terminated because no agreement could be reached on a guaranteed maximum price for the projects.  Members asked about the reasons the contracts didn't pan out and what led to this decision.  It was explained that there were very few bidders in key areas of the projects, and in general, more bid participation translates into more competitive prices.
"All you've got to do is read the newspaper and see how many new projects are being announced," said BOC member Sonny Flores.  "Last Sunday, I recall seeing several new projects are going on – that all plays into it, and I don't see an end to this in the near future."
Other first quarter highlights include:
Sharpstown High School – Sharpstown High School students, staff and alumni were joined by elected officials and business representatives on Feb. 7 for a groundbreaking ceremony for the school's new 21st century campus. Designed to have a collegiate feel, the new $55 million facility will feature a two-story, light-filled atrium, classrooms equipped with modern technology grouped into neighborhoods, flexible learning spaces, a large dinning commons, gymnasium, JROTC building and fine arts wing.
Washington High School – Demolition is completed after extensive asbestos abatement in the nearly 16 acres of land adjacent to the school that was acquired by the district as part of the plan to nearly double the size of the campus. The new campus, which will accommodate up to 1,300 students, will showcase the school's engineering program with 21st century technology and flexible learning spaces to support project-based learning and encourage collaboration.
High School for Law and Justice – In February, HISD completed the purchase of property near downtown at Scott and Coyle streets, which will become the campus for the new High School for Law and Justice. The school's new three-story building will combine a 21st century learning environment with unique features – including a courtroom, a crime scene investigations lab, an emergency communications center, and a law library. Construction is expected to begin in late summer and last about 20 months, allowing for students to attend classes in the new building in January 2017.
Sterling High School – The building site at Sterling High School is buzzing with activity these days as construction is progressing on the school's new 21st century building. The drilled foundation piers are complete and tilt walls are scheduled to go up this month. The school is designed to emphasize Sterling's aviation program and will prominently feature an airplane hangar as its centerpiece. Designed to accommodate 1,600 to 1,800 students and support the latest technology, the campus will also include state-of-the-art science labs, numerous learning commons areas, and flexible classroom spaces.
Delmar Fieldhouse – The concrete slab has been poured and the project is going vertical this month. Since construction began last fall, workers have been laying necessary groundwork including installing underground electrical and plumbing lines, and preparing concrete piers and grade beams. Steel erection is expected to take about five months. The project team is also finalizing the graphic designs for the portable arena flooring and the color.
In the preview of second quarter plans, the committee heard about upcoming design charrettes scheduled for schools in Groups 3 and 4 and community meetings for schools in Groups 2, 3 and 4. Group 2 schools are also moving into the construction documents phase.
HISD'S nine-member Bond Oversight Committee meets quarterly and is charged with monitoring all Bond-funded construction projects to ensure accountability and transparency and to promote public support and confidence. More information, including a list of members and meeting minutes can be found here.