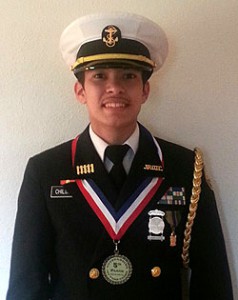 Robert Childress, a senior at Sterling High School, will be following his military dreams to Texas A&M University this fall at minimal cost to himself, after representatives of the Bill and Melinda Gates Foundation announced the winners of the Gates Millennium Scholarships for 2015.
Childress, who is the valedictorian at Sterling this year, was one of only 1,000 students chosen from more than 52,000 applicants nationwide—and the sole student selected from HISD.
The Gates Millennium Scholars (GMS) program was established in 1999 to promote academic excellence and to provide an opportunity for outstanding minority students with significant financial need to reach their highest potential.
Candidates for the GMS award must be citizens or legal permanent residents of the United States. Students must also meet the Federal Pell Grant eligibility criteria, have at least a 3.3 GPA (on a 4.0 scale), and have demonstrated leadership through community service or other extracurricular activities.
A full list of Gates Scholars from the Class of 2015 is available here (link to PDF is at the bottom of the article).