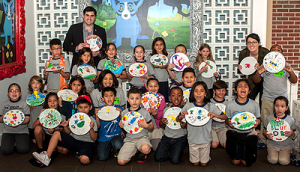 Students at almost two dozen HISD schools are now better able to explore the visual arts, after their campuses won art supply kits valued at $1,000 each from the George Rodrigue Foundation of the Arts (GRFA). The schools received the kits after submitting grant requests to George's Art Closest, an initiative of the organization named for the well-known Louisiana-based artist who created "Blue Dog."
Up to 20 campuses also got free field trips to a temporary exhibit of Rodrigue's artwork at West Avenue at River Oaks, 2800 Kirby Dr., second floor, and Adrienne Lewis' third-grade math class at Field Elementary School even received a visit from the artist's son, Jacques Rodrigue, on May 18.
"Mr. Rodrigue educated the students on his father's legacy and even shared some history about the State of Louisiana," said Lewis. "He then directed the children to think about their own favorite places and incorporate them into their artwork. The students remained engaged the entire hour he was here and were all sorry to see him go."
Lewis said the Field grant purchased supplies that could be used to teach mathematical principles, including basket-weaving kits, tapestry kits, scratch art, and write-your-own pop-up books. "Students were able to apply what they learned about measurement, patterns, elapsed time, financial literacy, and critical-thinking skills while working on these projects," she said.
Other HISD campuses that received the art kits were: Anderson, Burnet, Crockett, Crespo, Jefferson, Mandarin Chinese Language Immersion Magnet, Parker, Pleasantville, Roosevelt, Tijerina, and Whittier elementary; Fleming, Johnston, and Marshall middle, and Chávez, Davis, Early East College, Eastwood, Jordan, Lee, and Waltrip high schools.
The Rodrigue Houston exhibit will be in town until July 5, 2015, and features 75 original works of art.