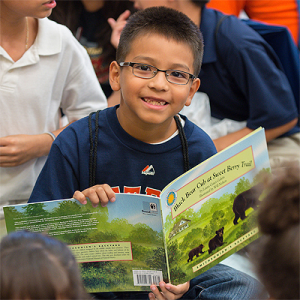 Before the days of Kindle and the Internet, children who wanted books to read over the summer had to either persuade their parents to purchase titles at a bookstore or visit their local libraries.
Now, students can still while away an afternoon in the cool quiet of a public library, but the days of being limited to hard copies are long gone. This year, HISD students can get a jump on their summer reading by taking advantage of two great online resources: myON and Istation.
Both are absolutely free to students, and both can help combat the dreaded "summer slide," in which children lose some of the academic progress they've made by sitting idle for three months between regular school years.
Last summer, HISD students read more than 90,000 books on myON alone, and HISD extended its contract with that company as a result.
"We can't track summer reading of hard copies as easily as we can though myON," noted Manager of Library Services Liz Philippi, "but our students read a LOT last summer. It broke down to an average of about 4.5 books per student (in grades Pre-K through 11). It was astounding."
Students who read at least 10 books on myON between May 15 and Sept. 4 will be automatically entered in a drawing for an iPad mini tablet. And two students — one at the elementary level and the other at the secondary level — who read for the most minutes nationally will each win an iPad mini. Ten runners-up in each group will receive $50 gift cards. And finally, if students rate and review books they have read, they can win gift cards worth $50 or $100.
For more information on how to access Istation, please see this related flyer (.pdf). Visit the district's Summer Reading website for details on myON, as well as suggested reading lists, quick reference guides, and a collection of links to other programs that offer rewards for summer reading.