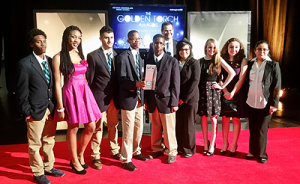 For the fourth year in a row, the robotics club at Mickey Leland College Preparatory Academy for Young Men has turned out dominant teams at district, state, and national competitions. Coming off of last year's third-place finish in the SECME VEX Robotics nationals, this year, the Knights of Engineering's high school team won the first annual NSBE VEX National Championship in Anaheim, Calif.
On a joint team with impressive young ladies from the Young Women's College Preparatory Academy, the ninth-graders not only won the tournament championship, but also the Excellence Award. Doing so qualified the joint team to participate in the VEX Robotics World Championship in Louisville, Ky., where they competed against the best robotics teams in the world. This was the second year in a row that the boys have been invited to the World Championship.
Additionally, the ninth-grade and eighth-grade teams finished first and second, respectively, in the SECME VEX Houston Regionals. The eighth-graders went on to finish second in the nation in the SECME VEX Nationals at the University of Alabama and the ninth-graders finished third.
The Knights of Engineering's sixth-grade team also won first place in the VEX-IQ State of Texas Championship sponsored by the Technology Student Association (TSA) in Waco. They went on to capture eighth place in the TSA VEX-IQ Nationals in Dallas.