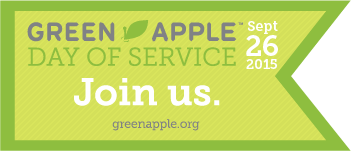 For the fourth year in a row, students and staff throughout HISD will participate in environmentally friendly activities for Green Apple Day of Service on Sept. 26, and the district is encouraging all schools and departments to participate.
The event, sponsored by HISD's Energy and Sustainability department and the Center for Green Schools at the U.S. Green Building Council, give students, teachers and community members the opportunity to create a healthy and productive school environments through local service projects.
"Schools can participate in a lot of different activities," said Caroline Kostak, Green Schools Chair at the Texas Gulf Coast Chapter of the U.S. Green Building Council. "At our school, we've cleaned out and worked on the outdoor habitats that the science classes use."
Kostak says schools can complete a range of environmental activities, such as revamping older recycle bins for easy use, placing signs on light switches that encourage users to turn off the lights when they leave, making recycling posters to put in school hallways and cafeterias, picking up trash on school grounds, or working to beautify school gardens.
Garden Oaks Montessori School and Gabriela Mistral Early Childhood Education Center are currently signed up to host projects this year promoting greener and healthier campuses.
Gabriela Mistral will host their Beautification Day, which will include teachers, parents and students working together to improve the outside appearance and function of the campus outdoor learning environment and stations. At Garden Oaks, students and community members will work on cleaning up their campus pond in order to support the local wildlife, according to Adam Mejia, PTO Beautification Leader at Garden Oaks.
2014 a Successful Year for Program
"The intent of our event is to have the students go back and observe the aquatic life of the pond," Mejia said "It's kind of our school's oasis."
Mejia, who is also with Accenture, partnered the management consultant company with the school to host the project. Volunteers at the event will focus on cleaning and managing the pond area that is home to fish, frogs and other wildlife so students and community members can enjoy.
"My goal is to get people out to the school to get the job done," Mejia said. "The staff is looking forward to having our area cleaned up and available for use. There's a lot of more work that needs to be done and repaired."
Sign up to participate, and view a list of project ideas
There is no deadline for HISD schools to get involved, but campuses are encouraged to sign up before Sept. 26 to plan ahead of time. Kostak says that knowing schools around the world are working toward the same date is fun, but participating in an event is better than no event at all.
"I would encourage schools who still want to participate but who don't have a plan already to plan something for a date that works for them," Kostak said.
To register a school for an event on Green Apple Day of Service, contact Caroline Kostak at 832-215-3885.