What if your child could take a guided tour of Machu Picchu, look out over the streets of Barcelona, or dive deep into the ocean to explore a coral reef, and then head home after school all on the same day?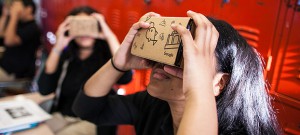 That's the idea behind the Google Expeditions Pioneer Program, which was presented to educators and second-graders at McGowen Elementary School on Thursday, Oct. 8, by representatives from the technology megacompany.
Google Expeditions provides a virtual reality platform that allows teachers to take their class on a journey using an Android tablet and specially made cardboard viewers. The panoramas visible to students through the Google viewers can be used to supplement lessons in the classroom in subjects as varied as geography, history, and literature.
"We've been thrilled to see teachers use Expeditions to bring abstract concepts to life and provide students with a deeper understanding of the world beyond the classroom, infusing learning with excitement and fun," said Google Program Manager Jen Holland.
At McGowen, each new location elicited "oohs" and "I actually thought I was under water" from students, as teachers flipped through the sites and zoomed in on areas of interest. The reaction reinforced Google's belief that the Expeditions Pioneer Program can take students to places a school bus never can.
"The virtual field trip was an awesome experience for my scholars and for me as well." said McGowen fourth-grade reading and social studies teacher Shaunda Roberts. "The exposure really opened their minds to something they had never experienced before. We had a really great question-and-answer session, and my scholars had wonderful questions."