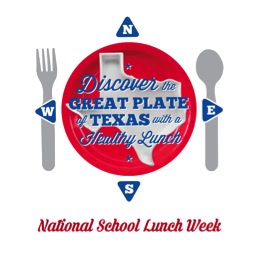 To recognize the National School Lunch Program (NSLP) and the more than 215,000 students it serves each day, HISD Nutrition Services will be celebrating National School Lunch Week (NSLW) Oct. 12–16.
NSLW was created by President John F. Kennedy in 1962 as an annual celebration of the National School Lunch Program. Nutrition Services' theme this year is "Discover the Great Plate of Texas with a Healthy Lunch," and the department will highlight its fresh fruit and vegetable program by offering two Texas grown items.
On Tuesday, Oct. 13, roasted summer squash — a new menu item this year — will be served, and on Wednesday, Oct. 14, juicy Texas watermelon will be available in district cafeterias. In addition, 25 schools have been selected to participate in Harvest of the Month program, through which students are encouraged to try local produce and win prizes by doing so. Students will be given a booklet to collect stickers of all the fruit and vegetables they try during National School Lunch Week.
"National School Lunch Week is a great time for us to educate parents and students about all the benefits of our lunch program, and the appealing choices we offer," said Nutrition Services Senior Administrator Audene Chung. "School lunches are healthier than ever, with more fruits and vegetables, whole grains, and less fat and sodium."
On Oct. 15 and 16, HISD Nutrition Services culinary team and dietitians will host nutrition education classes and cooking demonstrations. Students will learn the benefits of healthy cooking and will bake sweet potato muffins, a lunchtime favorite that incorporates vegetables and whole grains.
The federally-funded National School Lunch Program provides nutritionally-balanced, healthy meals to students every day. The program, which has served the nation's children for more than 60 years, requires school meals to meet federal nutrition standards set by the U.S. Department of Agriculture.