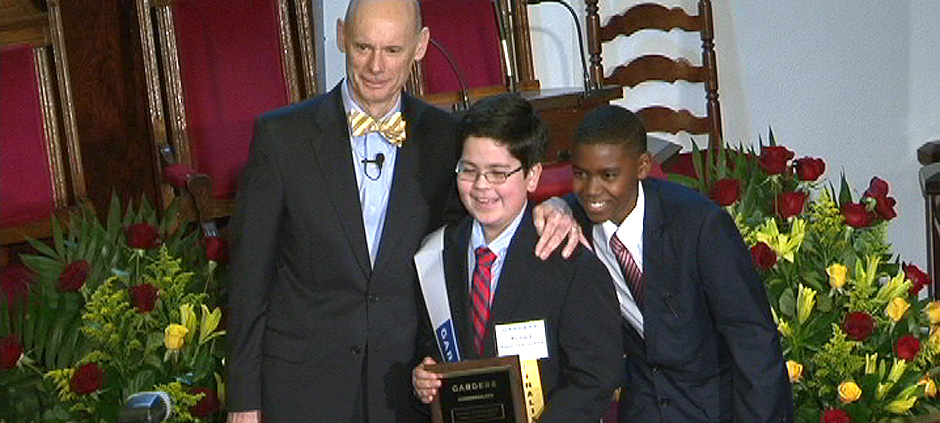 For the third time in a row, a student from Cornelius Elementary School has taken home the top prize at the Martin Luther King Jr. Oratory Competition. Fifth-grader Richard Espinoza-Garza was all smiles as he took center stage to claim his prize. Now in its 20th year in Houston, the annual competition is sponsored by Gardere Wynne Sewell LLP.
Principal Karen Jackson attributed her school's three-year winning streak to a combination of strong support and a positive campus culture. "We are highly competitive and demand excellence from our kids in everything we do," said Jackson. "We have a speech coach, and every winner from our campus has had over-the-top parental support."
This year, 12 finalists answered the question, "What would Dr. King say in his campaign speech if he were running for president this year?"
For Garza, King's mission would be to "reunite America in purpose, because a house divided against itself cannot stand."
"They hate each other because they fear each other," said Garza. "They fear each other because they don't know each other. They don't know each other because they don't communicate. And they don't communicate because they are separated."
Read more: One competitor in King speech competition has a formula for harmony
Whidby Elementary School's Kyle Mosley took home second-place honors for his heartfelt plea on behalf of the mentally ill.
"Our nation needs healing…and I will continue to champion healthcare for all, including people suffering from mental illness, especially children," he said. "Of all the forms of inequality, injustice in health care is the most shocking and inhumane. Mental illness must be addressed. Let the healing begin."
Brandalyn Thompson from Pleasantville Elementary School won the third-place prize for her suggestion on how to conduct oneself with integrity.
"Control-alt-delete is the key," she said. "Control your emotions, alter your attitude, and delete all negativity. You determine what happens to you. And your reaction can change America, one key at a time."
Read more: Stirring speeches celebrate legacy of MLK
Fourth- and fifth-graders from two dozen HISD schools have competed in the annual contest each year, which challenges students to write and present a short original speech imagining King, Jr. in today's world. King died in 1968.
Read more: Students imagine what Martin Luther King Jr. would say in presidential campaign today
Watch the powerful winning speech.
Richard Espinoza-Garza, Cornelius Elementary
Second Place
Kyle Mosley, Whidby Elementary
[su_youtube_advanced url="https://www.youtube.com/watch?v=0mphToH_pa0″]
Third Place
Brandalyn Thompson, Pleasantville Elementary
[su_youtube_advanced url="https://www.youtube.com/watch?v=sTNtumHFhJk"]
The other finalists:
Mya Carrillo, Garden Villas Elementary
Jessie Dozier, Gregg Elementary
Cam Ron Dancy, Windsor Village Elementary
Morgan Childs, Crespo Elementary
Ga'Brielle North, MacGregor Elementary
Malak Albarguthi, Sutton Elementary
Samuel Pratt, Thompson Elementary
Olutobi Adeyeri, Valley West Elementary
Madyson Roland, Wainwright Elementary