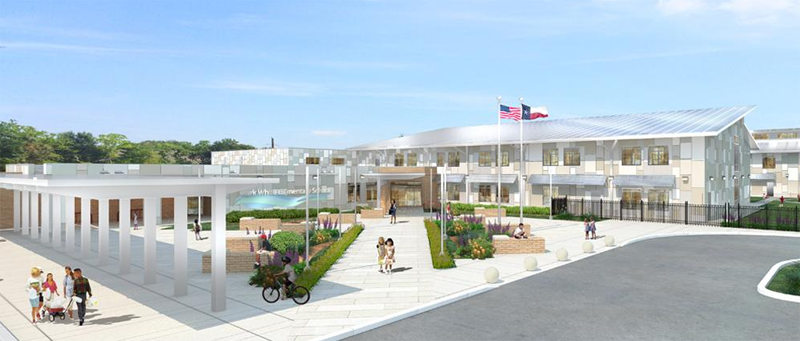 HISD's brand new Mark White Elementary School (2515 Old Farm Road, 77063) will be opening its doors for the first time in the fall of 2016, and interested parents have until Friday, March 25, to submit their applications for admission.
The school, which is located just north of Westheimer on the district's west side, will offer a French-language immersion program to students in prekindergarten and kindergarten during its first year of operation, and expand the program by one additional grade each year until 2021.
"Learning a second language is a huge asset for students who wish to be competitive in the global work force," said Principal Lisa Hernandez. "After English, French is the second most widely learned language in the world. More than 220 million people speak French, and it's spoken on all continents."
In addition to both traditional and French-language immersion programs, the campus will offer a curriculum based on green living and sustainability. The facility is being built to comply with Leadership in Energy and Environmental Design (LEED) certification requirements, and will have ample natural resources to use for project-based learning in earth and life sciences.
As a non-zoned school, Mark White ES has no attendance boundary. However, the campus is considered a "boundary option" campus for students zoned to Briargrove, Emerson, Pilgrim, and Piney Point elementary schools, so children residing in those areas will be given precedence in the application process.
For more information, including applications in both Spanish and English, please visit the school's website. Interested parents may also come to an informational meeting scheduled for 6 p.m. on March 8, at Emerson ES (9533 Skyline, 77063).