Cross-functional collaboration at HISD honored by Council of the Great City Schools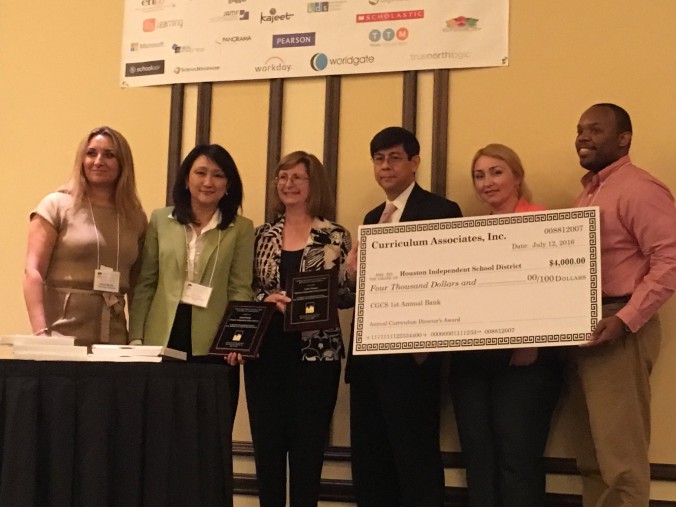 Various departments and members of Team HISD were recently recognized by the Council of the Great City Schools for their collaboration on PowerUp—the district's initiative to digitally transform teaching and learning.
HISD was presented with the Making Strides Together Curriculum Award for Excellence in Urban Education at a luncheon July 10, at the Council's Academic, Information Technology and Research Conference held in Palm Beach, Florida.
The award recognizes district teams who have been able to break their organizational silos to work toward a common goal to improve student achievement. As part of PowerUp, a cross-functional team worked at both the steering committee and at the functional levels to facilitate planning, implementing, and assessment of the initiative, which included the distribution of laptops to all high school students at HISD.
"Houston ISD has set a high goal and recognizes that no single department has all of the answers needed to successfully roll out a phased 1:1 laptop project for all high school students," said Ricki Price-Baugh, Academic Achievement Director of the Council of the Great City Schools.
"Your garnering the support of district leadership, representatives from curriculum, professional development, instructional and educational technology, school leadership, school support, and communications models the kind of cross-functional teaming that enables districts to develop the systems, structures, and supports to move from the inception of a transformational initiative to its implementation so that students are better prepared for college and careers," she said.
HISD's Assistant Superintendent of Student Assessment, Leng Fritsche, was on hand to accept the award along with a $4,000 check that HISD will use to further the district's efforts to digitally transform teaching and learning.
"Our next steps in this work are to continue to work together, insist on interoperability using open standards, and utilize more open-source, teacher-generated lessons designed to support projects and other types of relevant and engaging student learning in the classroom."