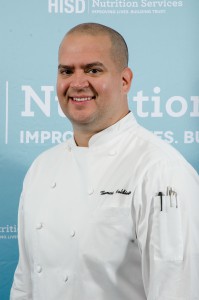 HISD Research and Development Chef Tom Valdivieso has a new appreciation for what he and his fellow chefs do at the district. As a first-time father of a newborn son who will one day attend an HISD school, Valdivieso understands the importance of his role.
"We always cook with students in mind so that we can make sure they get the necessary nutrients to succeed in school," he said. "We are trusted with their well-being."
Valdivieso evaluates the HISD school menu as part of his job to design school meals that are delicious and healthy.
"The goal is always to satisfy students," he said. He accomplishes this by creating recipes, testing them, and tweaking them to perfection.
The chef faced various challenges perfecting this year's menu. He had to balance meal costs, nutritional restrictions, and a variety of dishes with a limited supply of ingredients. Thanks to his culinary ingenuity, however, he found a way to meet USDA regulations while providing the flavors students want.
"The starting recipe may not work because it's too high in sodium or calories," said Valdivieso, "so we work closely with the dietitians to create nutritionally sound dishes."
He learned cooking at an early age helping his mother in the kitchen.
"I loved helping my mom cook when I was seven," said Valdivieso. "It was a hobby at first, but then it became a passion."
His hobby kept him in the kitchen as he earned a degree in marketing from Michigan State University. After working as a financial adviser and moonlighting as a chef for six years, he decided to enroll in the Culinary Institute of America.
"I came to realize I did not belong behind a desk," said Valdivieso, who has more than 15 years of cooking experience. "This profession has taken me to a lot of places—I've cooked in Las Vegas, New York City, and the Czech Republic."
He loves his job at Nutrition Services because it gives him the opportunity to serve students.
"My son will go to a HISD school in a few years," said Valdivieso. "And as a parent, I want the best for my child. I can do that by providing the best school meals I can for him."