This month's Workshop Wednesday featured a presentation from Melissa Rascon, managing partner and founder of The Rascon CPA Firm, who discussed business strategies to grow a small business as well as tax updates and tips.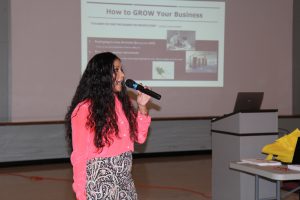 "When you start your business, it's so important to have a passion for what you do and be very deliberate in your plans," Rascon said. "A positive attitude and state of mind are essential."
Rascon also discussed the pros and cons of various corporate structures, the importance of focusing on sales every day, and which numbers a business owner should keep an eye on.
"You don't have to be perfect – we all make mistakes, but don't be afraid to try," Rascon said. "Think big, be confident and take calculated risks to make big leaps."
HISD's Business Assistance Supplier Diversity department hosts Workshop Wednesday, which is held on the first Wednesday of each month. Topics covered vary and are targeted to provide relevant information and assistance to M/WBEs interested in doing business with the district.
For more information on upcoming workshops and networking opportunities, which are free of charge, contact the Business Assistance Supplier Diversity office at 713-556-7273.