Houston ISD Superintendent Richard Carranza has selected Chief School Officer Grenita Lathan as the district's new chief academic officer.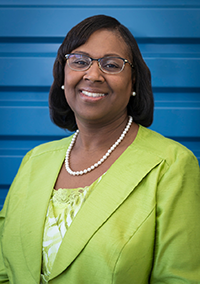 "HISD is very fortunate to have Dr. Lathan on our team," Carranza said. "She is a strong leader with a reputation for improving outcomes for students and engaging our families and school communities. She has a deep understanding of effective classroom teaching, student-focused instruction, and school leadership that will help our students and educators succeed. I am confident that her depth of knowledge will continue to move HISD into a consistently high-performing public school district."
Dr. Lathan, a 25-year veteran educator, currently serves as chief school officer in the HISD Office of School Support for the district's north area. She previously served as chief school officer over elementary transformation schools during the 2015-2016 school year in which she led more than 20 schools out of an "improvement required" state rating to a "met standard" rating. She came to HISD after serving as superintendent of schools for Peoria Public Schools, where she oversaw approximately 14,000 students and 2,700 staff.
"I am grateful for the opportunity to help our schools achieve educational excellence," Dr. Lathan said. "The work we do every day to prepare students to not only master standards but to reach their full potential and to be future leaders is extremely fulfilling. I want to ensure all of our students have quality educational opportunities that will build their critical thinking skills and contribute to their success."
Dr. Lathan began her education career as a high school teacher in North Carolina and later served as both an assistant principal and principal in the state. She went on to serve as a chief elementary school improvement officer of the San Diego Unified School District and as an interim deputy superintendent.
She holds a bachelor's degree in business education from North Carolina A&T State University, a master's degree in business education from the University of North Carolina, and a doctoral degree from Southern Illinois University.
The chief academic officer role was previously held by Dr. Andrew Houlihan.