As a rowdy crowd cheered on, Waltrip High School Band Director Jesse Espinoza darted through the aisles of a local Kroger supermarket with a Houston Dynamo player close by. His goal: grab as many groceries and products as he wanted in four minutes with midfielder Andrew Wenger as his partner.
Espinoza was named the top Classroom Champ by the Dynamo Charities and Kroger on Wednesday, Oct. 5, during a special celebration at the store. He, along with Karol Galindo from Sherman Elementary and Elsa Tiangco from Benbrook Elementary, were honored as Classroom Champs for being teachers who make a profound impact in the lives of their students.
As the top honoree, Espinoza won a four-minute shopping spree in Kroger. But he said the real focus should be on his students.
"It's a great honor," he said. "I love that the parents nominated me. But it's all about the kids I teach every day. I'm just super excited and this is for them, actually."
Dynamo President Chris Canetti named off many of the Waltrip Ram Band student accomplishments, including high college acceptance rate and scholarship money.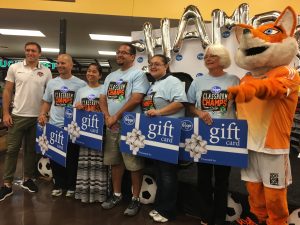 "I know that all of us had a teacher in our lives that we look back on as someone who had a very important role in our success," Canetti said. "So it's awesome to pay such tribute and recognition (to them)."
For their hard work, Kroger and Dynamo Charities also presented Galindo and Tiangco with $250 gift cards. All three also were invited to an upcoming Dynamo game.
"Nothing I do is for me," Espinoza said. "I want everyone to know that. It's all about doing things for Waltrip High School and more importantly the children. It's a great honor and I appreciate it but it's all for the kids."