This month's Workshop Wed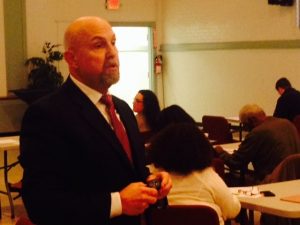 nesday featured business coach Ted Hair, owner of ActionCoach, speaking on the topic How to Compete on Value and Not Price. The interactive session included a discussion about strategies any business can use to increase sales and profits.
"Business does not mean busy-ness," Hair said. "It's important to work on your business, not just in your business, if you want to get better results."
Hair told the group that proven ways to increase profits include increasing the number of leads, converting more leads to sales, increasing the number of transactions, growing average sales, and improving profit margins. He explained that growing these areas by even 10 percent can increase profit exponentially.
"There are some simple, easy things companies can do to grow. For many businesses, the easiest way to get leads is through referrals. But many businesses don't ask for referrals," Hair explained. "You must know your numbers inside and out – revenue, profit margin, conversion rate – and make sure you are raising each one of them."
About 40 business owners and representatives participated in the workshop, which was hosted by HISD's Business Assistance Supplier Diversity department. The monthly event is held on the first Wednesday of each month. Topics covered vary and are targeted to provide relevant information and assistance to minority- and women-owned companies interested in doing business with the district.
For more information on upcoming workshops and networking opportunities, contact the Business Assistance Supplier Diversity office at 713-556-7273.