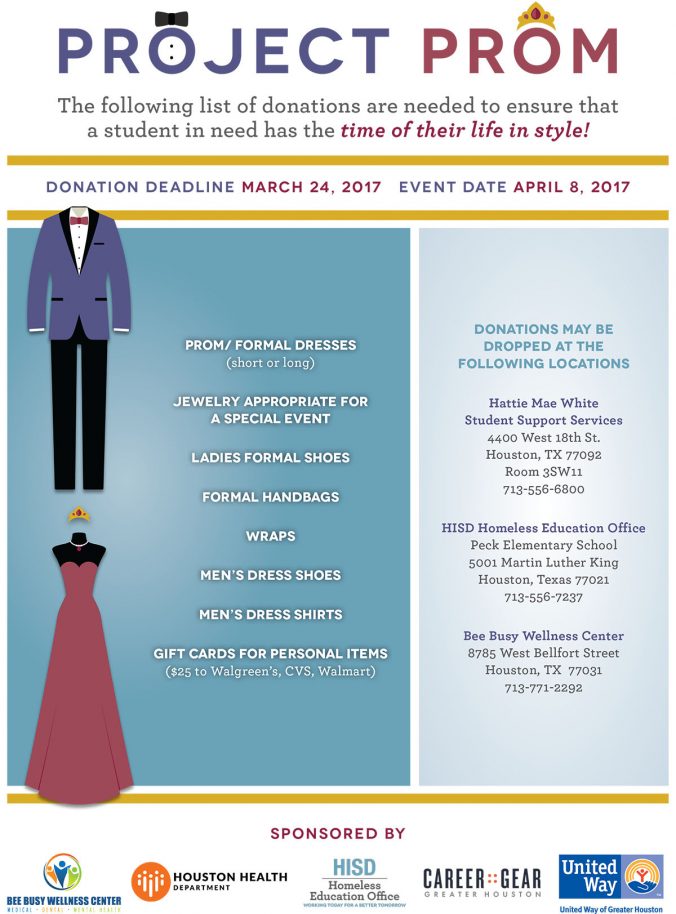 HISD's Homeless Education Office is requesting donations of formal attire for hundreds of homeless and at-risk high school seniors planning to attend their prom. The homeless office is requesting formal dresses, shoes, handbags, and jewelry for girls and tuxedo rentals, men's shirts, and men's shoes for boys.
Donations may be dropped off at the following locations:
Hattie Mae White Education Support Center, Room 3SW11, 4400 W. 18th St., Houston, 77092 (713-556-6800)
HISD Homeless Education Office, Peck Elementary School, 5001 Martin Luther King, Houston, 77021 (713-556-7237)
Bee Busy Wellness Center, 8785 W. Bellfort, Houston, 77031 (713-771-2292)
Project Prom will be held from 9 a.m. to 1 p.m. on Saturday, April 8, at the Third Ward Multi-Service Center, 3611 Ennis, Houston, 77004. Project Prom has received support from the Bee Busy Wellness Center, Houston Health Dept., and United Way of Greater Houston.
The event will include information about college and career opportunities, free immunizations (including the meningitis shot needed for college), free food, giveaways, and much more.
The HISD Homeless Education Office is a grant-funded program that serves thousands of homeless students throughout the district.