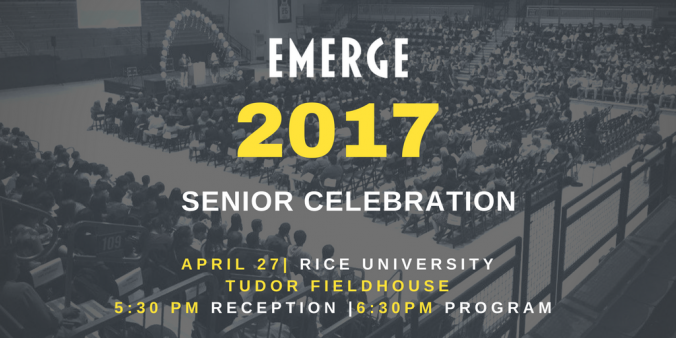 There are 252 EMERGE seniors graduating in May and heading off to colleges and universities around the country, and they're on track to receive more than $36 million in scholarships and grants.
This year, students have been accepted to schools such as Harvard University, Brown University, University of Pennsylvania, Bryn Mawr College, Scripps College, Amherst College, University of North Carolina at Chapel Hill, Vanderbilt University, St. John's University-New York, and Johns Hopkins University. 
EMERGE seniors will receive a big send-off beginning with a reception at 5:30 p.m. at Rice University's Tudor Fieldhouse on Thursday, April 27, when some 900 students, parents, and special guests gather for a celebration that will include statements from graduating seniors and special speakers. The program begins at 6:30 p.m.
"EMERGE really helped me understand the college application process—I was exposed to many opportunities such as college visits and summer programs in addition to test preparation and essay writing workshops," said Eastwood Academy senior and EMERGE Scholar Josue Sanchez. "I'll be attending Amherst College in the fall, without needing to take out any loans, and studying political science."
Keynote speaker Dr. Alexander Byrd, associate professor of history at Rice, will address the seniors. Dr. Byrd is a Houston native who grew up in the Sharpstown area and attended Yates High School. He graduated from Rice University and has a PhD in history from Duke University.
HISD Superintendent Richard Carranza will address the graduating seniors as well. Students, parents, and other attendees will also have a chance to pass the microphone and talk about personal experiences regarding the EMERGE program.
EMERGE program managers will award EMERGE graduation stoles to each senior, who will then be congratulated by EMERGE Fellowship executive director Trisha Cornwell.
"We are so proud to see so many EMERGE students accepted to the nations' most selective colleges and university again this year," Cornwell said. "Opportunity changes opportunities" is the motto that drives her work.
The EMERGE Fellowship is a Houston-based nonprofit organization that partners with school districts such as HISD to empower and prepare high performing students from underserved communities to attend and graduate from selective colleges and universities across the nation. This past year, EMERGE-HISD has worked with more than 786 students across 44 HISD high schools, changing lives and futures for both students and their families.
To learn more about EMERGE, visit www.HoustonISD.org/EMERGE.