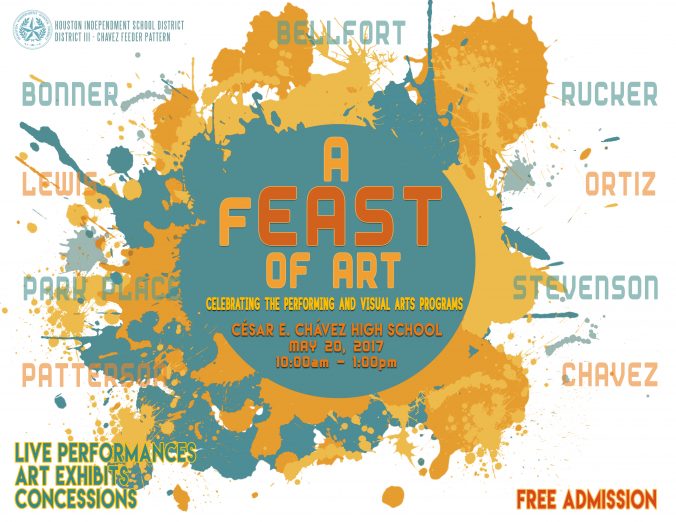 Schools in the Chavez High School feeder pattern will host the first fine arts showcase, "A Feast of Art," from 10 a.m. to 1 p.m. on Saturday, May 20 at Chavez High School (8501 Howard, Houston, 77017) as part of a larger effort to increase arts access in the area.
The fine arts showcase will feature visual artwork created by students from the following schools: Bellfort Early Childhood Center; Bonner, Lewis, Patterson, Park Place, and Rucker elementary schools; Ortiz and Stevenson middle schools; and Chavez High School.  
District III Trustee Manuel Rodriguez, a strong champion of fine arts programs in the district, said pleased with this effort and the upcoming event to showcase students' work.
"As the trustee for District III, I saw the need for a fine arts program that progressively develops our students' artistic abilities from elementary school to middle school and finally to high school," Rodriguez said. "That continuity of instruction is critical to help our students reach their fullest potential. I'm proud to have helped lead this effort to strengthen the arts programs at schools in the Chavez High School feeder pattern. I look forward to expanding this effort throughout District III."
Sabrina Nguyen, HISD's fine arts specialist in the East Area Schools Office, said she is excited about the increased emphasis on fine arts in the area, as well as the work being done between campuses to improve best practices.
"The collaboration among arts teachers throughout the feeder pattern has been so fantastic and such a positive experience for everyone involved," Nguyen said. "They have been observing one another and sharing resources, which has been invaluable."
The fine arts showcase will include drawing, painting, collage, sculptures, and more. There will be live performances from choir, dance, band, and theatre students. Additionally, refreshments will be available for purchase as a fundraiser for participating schools.