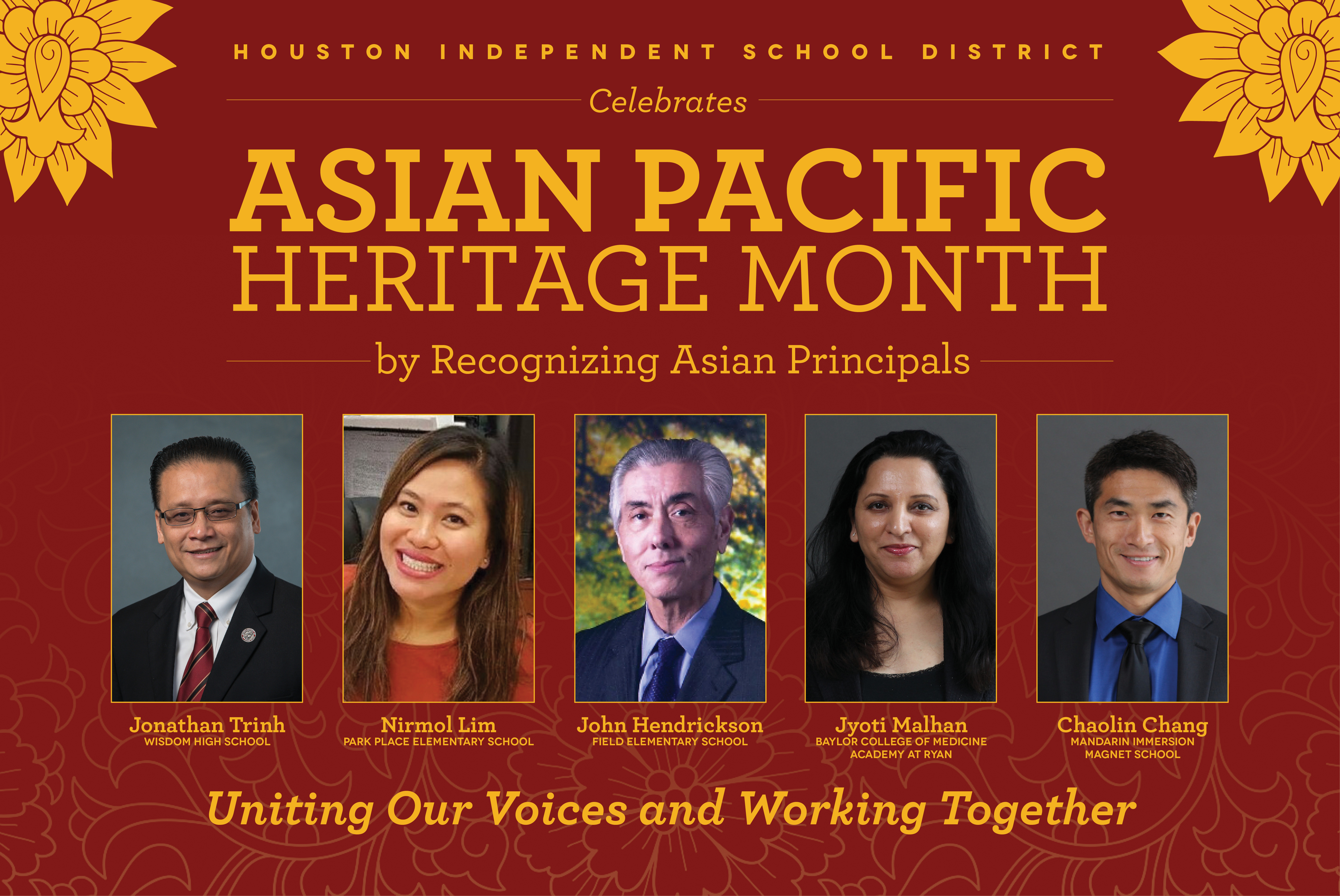 May is Asian Pacific American Heritage Month, a celebration of Asians and Pacific Islanders in the United States, and this year, HISD is honoring the district's Asian principals.
Jonathan Trinh, Wisdom High School
Jyoti Malhan, Baylor College of Medicine Academy at Ryan
Nirmol Lim, Park Place Elementary School
John Hendrickson, Field Elementary School
Chaolin Chang, Mandarin Immersion Magnet School
Asian Pacific American Heritage Month originated with Congress in 1977, when Rep. Frank Horton of New York introduced a resolution proclaiming the first 10 days in May as Asian Pacific American Heritage Week, and Sen. Daniel Inouye put forth a similar resolution. Neither passed, but the following year, Horton tried again and succeeded, and a joint resolution passed by the House and Senate was signed into law by President Jimmy Carter on Oct. 5, 1978. 
In the 1990s, Congress expanded the recognition to a full month. The May celebration includes all of the Asian continent and the Pacific islands of Melanesia (New Guinea, New Caledonia, Vanuatu, Fiji and the Solomon Islands), Micronesia (Marianas, Guam, Wake Island, Palau, Marshall Islands, Kiribati, Nauru and the Federated States of Micronesia) and Polynesia (New Zealand, Hawaiian Islands, Rotuma, Midway Islands, Samoa, American Samoa, Tonga, Tuvalu, Cook Islands, French Polynesia and Easter Island).
HISD also celebrated earlier this month at the Asian-Pacific American Heritage Celebration, which featured performances, awards, and the traditional dragon dance. The event was hosted by the Asian Advisory Committee and honored Superintendent Richard Carranza and Board of Education Trustee Anne Sung, as well as teachers Yen Trieu from Park Place ES, Sunil Dabas from Baylor College of Medicine at Ryan, and Dr. Liming Guo from Lamar HS, each of whom received a $500 cash prize.
The Asian Advisory Committee is made up of community leaders from local educational institutions, businesses, government, and faith-based organizations. Their purpose is to strengthen public support of HISD schools, increase student achievement, and encourage parental and community involvement within the Asian community. This committee was established in fall of 2005 and is one of the first ethnic advisory committees in HISD.