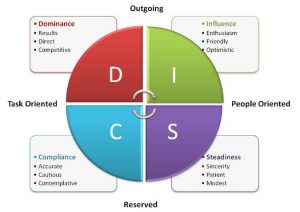 Representatives from local businesses came together last week to get tips from Houston-area business builder and coach Ted Hair on how to increase their sales by tapping into a buyer's personality.
Since the early 1900s, Hair said, a personality-based sales model has been used to teach salespeople how to identify and speak to different buyers by classifying them into one of four different categories —dominance, influence, steadiness, and compliance (DiSC).
"You're not a salesperson," Hair said, stressing the importance of identifying your buyer. "You're a problem-solver."
Hair, who owns ActionCOACH of South Houston, served as the featured speaker for June's Workshop Wednesday, which is hosted monthly by HISD's Business Assistance Supplier Diversity department.
As attendees were sectioned into different corners of the room, Hair outlined the four behavioral types and how to recognize them, and then provided tips on how to close the deal by adapting sales techniques based on buyer personality.
Under the DiSC model, he explained, dominance buyers are competitive and task oriented, while compliance buyers are cautious and task oriented. Influence buyers are friendly and people oriented, he said, while steadiness buyers are patient and people oriented.
Before the workshop wrapped, attendees were given a written exam to test their knowledge in distinguishing the different personalities in various situations.
Amanda Naylor, a sales representative for Tobii Dynavox, said she found the information especially useful as her company is interested in doing business with HISD and has responded to HISD's Request For Proposals (RFP).
Naylor said she speaks with representatives from the district's Information Technology and Special Education departments, as well as parents and others to tell them about the augmentative communication devices her business offers.
"I started writing down the folks that I've communicated with recently and what personality type they are so I can start adjusting my communication style or my emails in order to accommodate them better," Naylor said.
A free monthly event, Workshop Wednesday is held on the first Wednesday of each month. Topics vary and are targeted to provide relevant information and assistance to minority- and women-owned companies interested in doing business with the district.
For more information on upcoming workshops and networking opportunities, contact the Business Assistance Supplier Diversity office at 713-556-7273 or businessassistance@houstonisd.org.