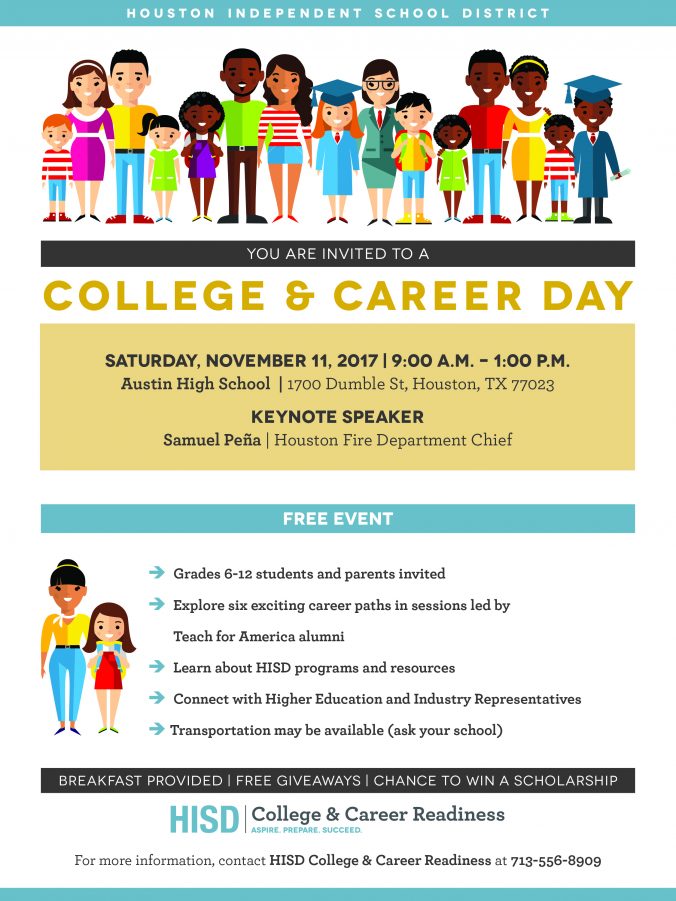 Students in grades 6-12 and their parents are invited to the HISD College & Career Ready Day on Saturday, Nov. 11 from 9 a.m. to 1 p.m. at Austin High School.
During this high-impact event, parents and students will explore different career opportunities in the greater Houston region, learn about HISD programs and resources, and connect with higher education and industry representatives.
Two lucky students will win a $500 scholarship for college. Transportation from other campuses to Austin High School will be provided, as well as breakfast for all participating parents and students.
Six informative college and career sessions will be led by Teach for America alumni and HISD staff. Participants can attend up to three of their choice, including: 
Healthcare careers
HISD College & Career Readiness resources and support
HISD programs and school choice
Law Enforcement, Fire, and Criminal Justice career pathways
Legal professions
Opportunities across various U.S. military branches
In addition, parents and students will have access to a resource fair featuring various HISD departments, community organizations, colleges, and universities.
Houston Fire Department Chief Samuel Peña will accompany Houston firefighters to this event. HISD is proud to honor these brave men and women for their acts of heroism both during and in the aftermath of Hurricane Harvey.
If you have questions or need additional information, please contact Trina Wright at 713-556-8909 / TWRIGH10@HoustonISD.org.