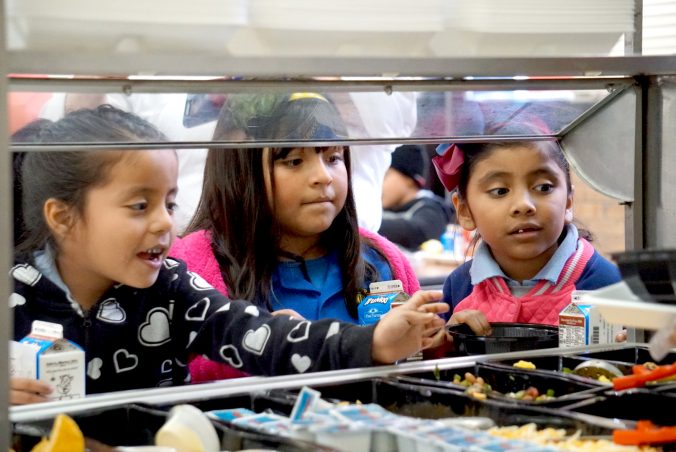 When students at J.P. Henderson Elementary returned from the holiday break, they were met with a healthy new option in the cafeteria: a salad bar filled with crisp lettuce, fresh cheese, and cool cucumbers.
Henderson Elementary is the first elementary school in the district to have a salad bar included in its meal options. Nutrition Services plans on adding salad bars to another 22 elementary schools before spring break. 
Assistant Principal Claudia Florez announced the new addition over the school's intercom Monday morning. To her surprise, the line for the salad bar was wrapped around the cafeteria and extended out into the hallway at lunchtime.
"Their eyes lit up when they saw all of the toppings they could choose from," Florez said. "I had several students ask if they would be able to get salads every day and when I said yes, they lit up with excitement again."
Each school's bar will be set up differently, but the main fixings will be available at each: lettuce, corn, pinto beans, cheese, cucumbers and a few other options.
"We want the students to have a wide range of food options," Keith Lewis, Nutrition Services' senior area manager of operations, said. "We know it will encourage them the keep an open mind about food and help them create healthy eating habits early."
Four HISD chefs were on hand to help launch the salad bar. They worked side by side with cafeteria staff to perfect the bar layout and encourage the young students to give the bar a try.
"It was really interesting to see each student create their own little culinary masterpiece," Chef Jane Mazzei said with a laugh. "I noticed at this school the students piled on the corn and the pinto beans, I can't wait to see what the students at the next school opt for."
And it wasn't just students diving in to test out the salad bar. Several teachers made their way through the line as well.
"The teachers and staff enjoyed having the salad as an option," Florez said. "It's something quick yet healthy that they can have during their break."