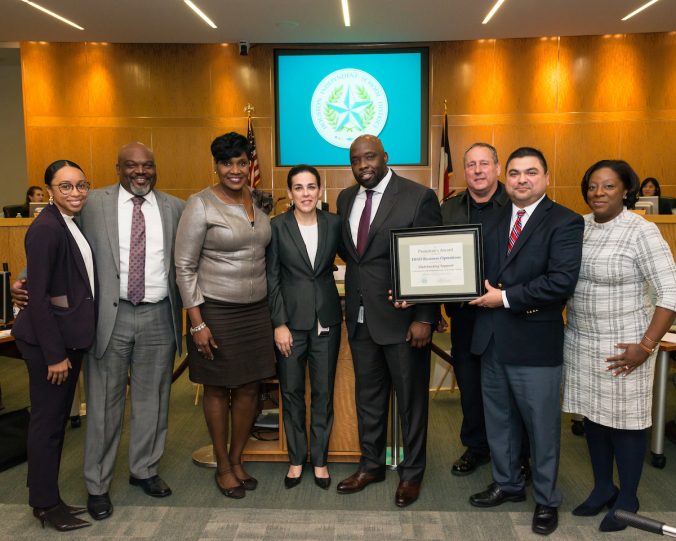 Chief Operating Officer Brian Busby received the President's Award in recognition of the outstanding work the Business Operations unit has performed in the wake of Hurricane Harvey.
The award was given at the Jan. 18 board meeting by outgoing Board of Education President Wanda Adams, who noted Business Operations' "dedication, commitment and support to HISD and of the Houston community in wake of Hurricane Harvey."  
In the weeks after the storm, the Business Operations unit mobilized its resources to rescue families and restore operations as quickly and effectively as possible. Their efforts ranged from working to repair damaged facilities to feeding those in need in flood-ravaged communities. Those efforts are still felt months later, with the rebuilding of damaged schools and free meals for HISD students this school year.
"I want to recognize a department that has done a tremendous job and has gone above and beyond. I've seen them work overnight. I've seen their staff work overnight," Adams said. "There are lists and lists of jobs that they did this past year."
Business Operations includes Facilities Maintenance, Construction, the Bond Program, Transportation, Nutrition Services, the Police Department, Business Assistance, Risk Management, Insurance, Warehousing, and other related business areas.
"This is a true labor of love," said Busby, who has served as COO for one year and has been with the district for 20 years. "I've been taught some valuable lessons in my first year. But, I love what I do. I love working for HISD, and I love servicing the kids. I hope to continue to add to the momentum of what's been done to receive this recognition."