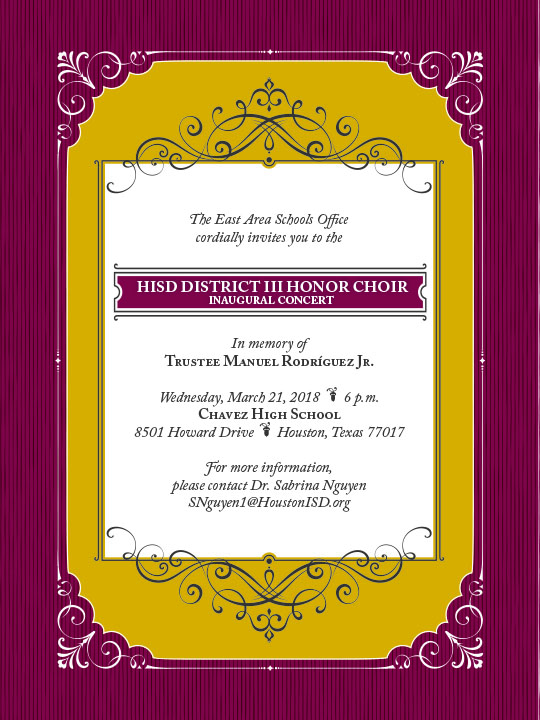 It promises to be a memorable night. The East Area Schools Office and Fine Arts Specialist Dr. Sabrina Nguyen are presenting the inaugural concert by the HISD District III Honor Choir.
The concert will take place at 6 p.m. on Wednesday, March 21, 2018, at Chavez High School, 8501 Howard Dr., 77017. The evening is presented in memory of Trustee Manuel Rodriguez Jr., who was instrumental in launching the East Area Fine Arts Initiative during the 2016-2017 academic year. Dr. Sergio Lira was elected to represent District III in November. "I support all fine arts programs in our schools because they enhance the academic achievements of all our students," Trustee Lira said. 
Performers range from fourth-graders to eighth-graders from Bonner, J.R. Harris, Lewis, and Patterson elementary schools, and Ortiz and Stevenson middle schools. The students auditioned in October, and have been rehearsing periodically on Saturday mornings since then. These children have had no previous singing or choir experience.
"I will do whatever is needed to make this evening memorable and of the highest quality," said Dr. Nguyen, who has been working extensively with music teachers in the participating schools. "This performance is in memory of Trustee Rodriguez because the principals of all District III schools worked together with the goal of linking all the schools. The goal was not only to inspire students to stay in school but to stay in their neighborhood schools."
Ruth Ruiz, principal of Stevenson Elementary, believes strongly in the power of the fine arts to change lives. "It allows individuals to express themselves in many different ways and creates an environment where students look forward to coming to school."
Parents of the young performers have seen their children's confidence grow as well, thanks to the choir rehearsals. "My daughter sings CONSTANTLY, and we love it," said parent Cameron Nicklaus. "Being in the choir and rehearsing is helping my daughter mature in many ways.  She is looking forward to the concert and to participating in the fine arts next year as a middle school student."
According to Dr. Nguyen, the East side historically has had few resources in fine arts. "Trustee Rodriguez was a strong champion of the fine arts, and he saw the need," she said. "The East Area Fine Arts Initiative supports a high-quality fine arts education by expanding teachers' and students' access to arts partnerships."
"I am so proud of what these students and their teachers have accomplished in a short period of time," said District III Area Superintendent Jorge Arredondo. "This will truly be a night to remember and a wonderful way to honor the memory of Trustee Rodriguez."
"I saw the need for a fine arts program in my district," Rodriguez said back in May of 2017. "This program was founded to develop our students' artistic abilities from elementary to middle to high school. That continuity of instruction from one grade level to the next in the East Area allows students to stay in their neighborhood and still receive quality instruction in the fine arts."
According to an analysis by the HISD Dept. of Research and Accountability, a total of 10,104 students had access to the initiative during the 2016-2017 school year. A culminating event at Chavez High School on May 20, 2017, showcased students' skills in music, dance, and artistic presentations. See related story here.
The entire district under the leadership of Superintendent Carranza is striving to increase students' access to the fine arts. "I am a passionate mariachi singer, and I want to nurture a passion for the arts in all our students," said Carranza in his State of the Schools speech.
"Programs like the District III Honor Choir reveal that with dedication and hard work, school leaders can make a difference in the lives of students," said Wenden Sanders, director of the HISD Fine Arts Team. "This event will truly honor Trustee Rodriguez and his legacy."
For more information, please contact Dr. Nguyen at SNguyen1@HoustonISD.org.