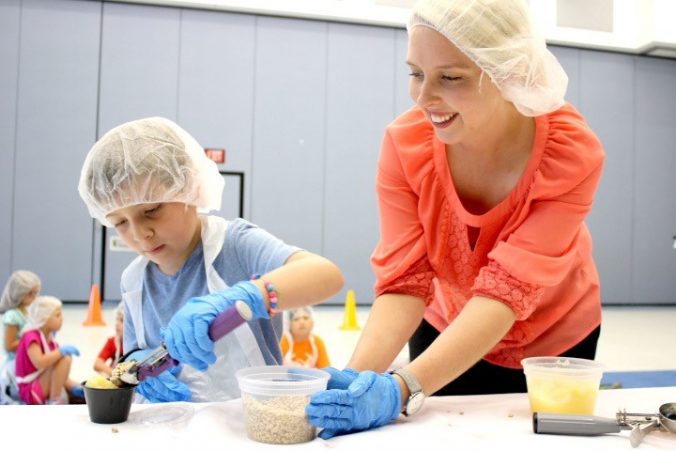 When HISD Nutrition Education Dietitian Julia Jarrell gets a reluctant student to try — and enjoy — bok choy for the first time, she knows she's doing exactly what she is meant to be doing.
Studies have proven the link between healthy eating and improved academic performance, she said. Good nutrition can boost grades, lower dropout rates, and even reduce disciplinary problems.  
Jarrell wants her students to reap those benefits. Her mission, she said, is to teach students how to develop lifelong healthy eating habits — and to do it in an engaging way.
"I aim to be fun and interactive while still keeping the focus on learning about nutrition," Jarrell said, noting that she might have students act out "The Two Bite Club," a book that encourages students to try new foods.
Already this year, Jarrell has reached 12,000 HISD students through her nutrition education classroom lessons. But she's not stopping there. Her goal, she said, is to impact all students in HISD. She's aiming to do just that through Nutrition Services' new School Garden Program.
Under the helm of Nutrition Services Officer Betti Wiggins, the department is piloting the program at four elementary schools this year — Hobby, Shearn, Gallegos, and Cook.
"The best part of this program is working with the students in the garden and seeing how enthusiastic they are to grow various vegetables," Jarrell said. "They take such ownership of their produce and are excited to try these new foods!"
Jarrell was instrumental in shaping and implementing the program. She worked directly with schools to oversee the building and planting of the gardens, coordinate volunteer support, and train school staff on the related nutrition lessons.
Though she's focused on just four schools this spring, she has plans to add up to five schools to the program each semester.
"The sky is the limit," Jarrell said "We want to reach all elementary schools with this program in some form."