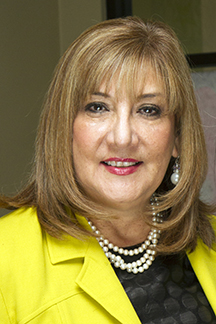 Noelia Longoria, HISD's assistant superintendent of the Office of School Choice, has been named interim chief academic officer of the Houston Independent School District.
Longoria assumes her new role immediately, reporting to Interim Superintendent Grenita Lathan.
"Ms. Longoria has more than 25 years of experience in urban education and a proven record of turning around underperforming schools," Lathan said. "I am confident that she will have a positive impact in helping to guide instruction across our district." 
Longoria has served as a teacher, counselor, assistant principal, dean, principal, and school support officer before serving in her current position leading the Office of School Choice. As a school support officer, she successfully turned around several schools that had not met state accountability standards for multiple years and oversaw their subsequent academic growth and progress.
"I feel honored to support Dr. Lathan in her vision to move the district forward," Longoria said. "I've always been about academics and doing the necessary work to ensure all students have the opportunity to learn."
Longoria began her career in HISD as the dean of instruction at Chavez High School, where she successfully led efforts to remove the school from AYP Stage IV. She was then named principal of Ortiz Middle School, which was in AYP Stage III and on state probation. Under her leadership, Ortiz became one of the top five schools in the district that increased student achievement for three consecutive years. She was selected as lead principal for two additional campuses and ensured both met state accountability standards.
Longoria was chosen through "Raise Your Hand Texas" to attend the Harvard Principal Institute in the summer of 2012; was named HISD's principal of the year in 2012 and 2014; and was named 2014 regional principal of the year by the Texas Association of Secondary School Principals.
Ms. Longoria graduated from Texas State University with a bachelor of arts and earned her master of education in guidance and counseling and mid-management from the University of Houston-Victoria/Sugar Land.