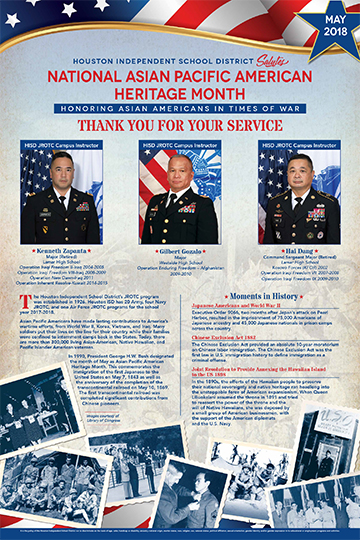 The theme of this year's May-long celebration of Asian Pacific Americans is honoring Asian Americans in time of war. This year's HISD poster features three JROTC teachers: Lamar High School grads Major (Retired) Kenneth Zapanta and Command Sgt. Major (Retired) Hai Dang, as well as Westside High School grad Major Gilbert Gozalo.
Zapanta served two terms of duty in Operation Iraqi Freedom, one term in Operation New Dawn-Iraq, and Operation Inherent Resolve-Kuwait. Gozalo served in Afghanistan's Operation Enduring Freedom, and Dang served two terms in Operation Iraqi Freedom and one term in Kosovo Forces. HISD's JROTC program was established in 1926, and currently there are 20 Army, four Navy, and one Air Force JROTC programs for the school year 2017-2018. 
HISD Asian American activities during May
The annual Asian American Pacific Heritage Month Dinner will take place on May 16 at Kim Son near downtown. Three Asian America teachers will be honored at the celebration.
The HISD Asian Advisory Committee is overseeing the display of two exhibits at the Hattie Mae White Educational Support Center:
HISD's Fine Arts Friday on May 11 at noon will feature the following student performances:
Arabic Immersion Magnet School: Dabke by one group
Bellaire High School: three solo performers will each perform; one will do a Mongolian dance, one will play the Gu Zheng, a Chinese instrument; and one will demonstrate Kung Fu martial arts.
Mandarin Immersion Magnet School: Folk dances by two soloists
Meyerland MPVA
Revere Middle School: Bollywood number
T.H. Rogers School: Diwali dances by two groups
HISD schools are encouraged to share their Asian Pacific American celebrations by posting photographs on Twitter with the hashtag #AsianPacificHeritage.