HISD is celebrating Teacher Appreciation Week May 7-12 and encourages students, parents, and the community to "Thank a Teacher" in person or on social media using #ThankATeacher and #HISD.
The district is celebrating with a royal theme this year, which matches the theme for this year's Educators of the Year banquet, which will be held on Friday, May 18, at the Hilton Americas Hotel.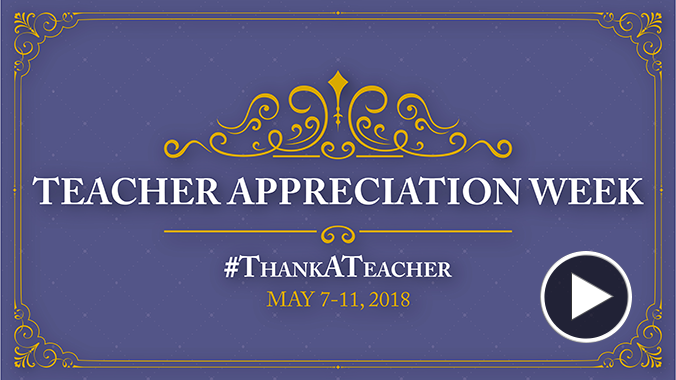 During the event, the district will announce its 2017-2018 Elementary and Secondary Teachers of the Year, as well as the recipients of the Beginning Teacher of the Year honors for elementary, middle school, and high school. The Fan Favorite Teacher, who was selected by survey, also will be announced.
Earlier this school year, the 2017-2018 Elementary and Secondary Principals of the Year were named, and two instructional coaches were presented with the Ann Sledge Instructional Coach Excellence Awards. Those award recipients also will be recognized at the event.
While many schools celebrated during the week of May 1-5, the National PTA and the National Education Association honor teachers during the week of May 7-12 and on National Teacher Day on May 8.
Join the celebration by sharing photos, kind words, or a gift with teachers present and past to honor all they do to prepare students for success.
[su_vimeo url="https://vimeo.com/268094129″ width="640″ height="480″]