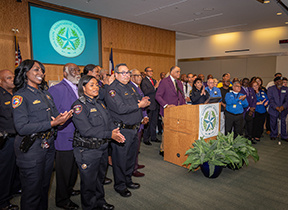 Local religious, school, and community leaders came together Tuesday to kick off the 28th year of Project Safe Start, a partnership aimed at preventing crime and providing additional security for students and teachers as they begin their summer vacations.
The partnership includes Houston Ministers Against Crime, HISD Police Department, Houston Police Department, Texas Southern University, the METRO Police Department, and other local school districts.
Ministers say the end of the school year is a time when students want to settle scores before summer break, and they often do so not on but near campus. Project Safe Start includes increased security on and around campuses to ensure areas surrounding schools remain safe for all students.  
HISD Superintendent Grenita Lathan said "when it comes to safety, it takes a village, and partnerships are the key."
She added that HISD, which has the only accredited public school police department in the nation, has taken many steps this school year to increase safety and plan for emergencies, including:
Increasing the number of active emergency drills at HISD campuses and facilities
Training an Emergency Response Team to respond to threats districtwide
Conducting realistic, hands-on training on how to react to an armed assailant
Providing officers with additional safety equipment
In the aftermath of the school shooting in Santa Fe, Lathan said, HISD was operating on high alert and placed all of its more than 200 officers on patrol.
"We're working every day to make schools as safe as they can be and to be attentive to any potential threats," said HISD Police Chief Paul Cordova.
HPD Assistant Police Chief Sheryl Victorian said HPD is increasing patrols and visibility in and around schools, and she urged the public to join in the effort. "If you are a parent at home, or a college student at home, be the ears and eyes of community. If you see something, say something," she said.