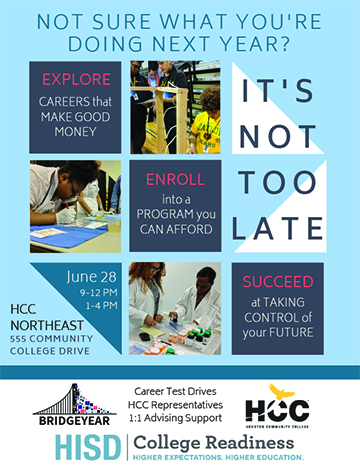 Are you a graduated senior interested in getting to work right away? Are you still trying to navigate your plans? HISD is offering an opportunity to explore high-paying careers in high-demand fields on Thursday, June 28 through BridgeYear.
Two sessions (morning and afternoon) will be offered to accommodate student schedules:
Session #1: 9 a.m. – noon
Session #2: 1 – 4 p.m.
Students must register online at here
At the event, students will:
"Test-drive" a variety of high-paying career fields.
Learn more about opportunities for employment in these fields, as well as the required job training.
Receive help enrolling in HCC programs that will provide the necessary job training at low or no cost.
Join BridgeYear, and receive ongoing one-on-one mentoring, advising, and support.
The event will take place at Houston Community College Northeast (555 Community College Dr.) and transportation is available (see bus stop information here).
If you have questions or need additional information, contact Michael Koch at MKOCH@houstonisd.org / 713-556-5635.