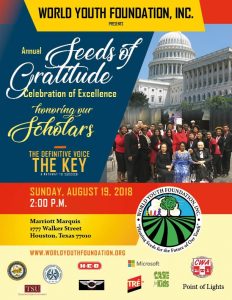 The World Youth Foundation is hosting its annual back-to-school celebration! Students who exemplify scholarship, community service, and excellence outside of the classroom can apply to be considered for a World Youth Foundation award.
See below for details on the awards categories, which include Education, Engineering, Fine Arts, Law Enforcement, Urban Planning, and much more
HISD students grades 9-12 interested in being nominated are asked to complete this interest form no later than 5 p.m. on Thursday, August 16.
Receiving one of the above distinctions showcases a student's commitment to becoming a high-impact global citizen and can be used to help them stand out on resumes, college applications, interviews, and much more.
Nominees must be present to win at the Celebration of Excellence, which will take place from 2:00 – 4:30 p.m. on Sunday, August 19, 2018, at the Marriott Marquis Hotel, 1777 Walker, Houston 77010). It is free and open to all HISD nominees and their families.
If you have questions or need additional information, please contact the World Youth Foundation at 713-523-8484 / info@worldyouthfoundation.org.
[su_document url="https://blogs.houstonisd.org/news/wp-content/uploads/sites/2/2018/08/2018-WYF-SOG-Youth-Award-Categories.pdf"]