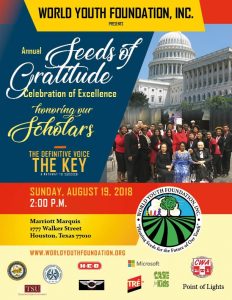 The World Youth Foundation is hosting its annual back-to-school celebration! Students who exemplify scholarship, community service, and excellence outside of the classroom can apply to be considered for a World Youth Foundation award.
See below for details on the awards categories, which include Education, Engineering, Fine Arts, Law Enforcement, Urban Planning, and much more
HISD students grades 9-12 interested in being nominated are asked to complete this interest form no later than 5 p.m. on Thursday, August 16.