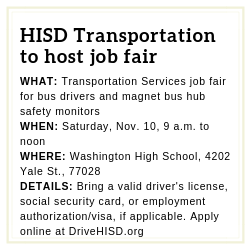 HISD's Transportation Services has reinstated four major southwest Houston school bus stops serving roughly 600 students and is recruiting more than 90 safety monitors to oversee magnet hubs across the district.
The changes are part of a continued effort by the department to improve its services and ensure students arrive at school safely and on time each day.
"Our goal is to ensure all students arrive at school by 7:15 a.m. and 8:15 a.m. — 15 minutes ahead of the standardized start times," Transportation Services Interim General Manager John Wilcots IV said. "Our employees see the value in meeting this goal."
The reinstated stops are located at the intersections of Allday and Sands Point drives, Memorial and Plainwood drives, and Player Street and Tidewater Drive, as well as one stop along Tiger Lilly Way. Students assigned to these stops have already been notified.
Wilcots noted that reinstating the major stops would better accommodate families in the area by reducing travel distance, as well as wait and ride times.
"We're continuing to review routes and data so that we can make similar changes in neighborhoods across the district," Wilcots said.
Another focus for Transportation Services this past week has been the hiring of safety monitors who will be assigned to magnet hubs across the district. The monitors will be tasked with working with the transportation department to ensure school buses pick up and drop off students at magnet hubs in a timely and safe manner each day.
The department is hosting its eighth job fair next weekend to recruit monitors and bus drivers. The fair is scheduled for 9 a.m. to noon on Saturday, Nov. 10, 2018, at Booker T. Washington High School, 4204 Yale St. Interested candidates should apply online ahead of time at www.DriveHISD.org
Additionally, the department continues to implement the Student Badge Program, which is designed to help the district track ridership and utilization of buses and routes, while also allowing parents to track when their child gets on and off the bus — enhancing efficiency and safety across the system.
Parents who want to receive alerts when their students get on and off the bus must sign up through ZPass. Parents who need help setting up an account can review step-by-step instructions posted online at www.HoustonISD.org/Transportation.